Hey GNovAs! Welcome to Patch 3.56. The full patch notes can be found at the lodestone (link) but here's a quick rundown on the highlights.
Main Story Quests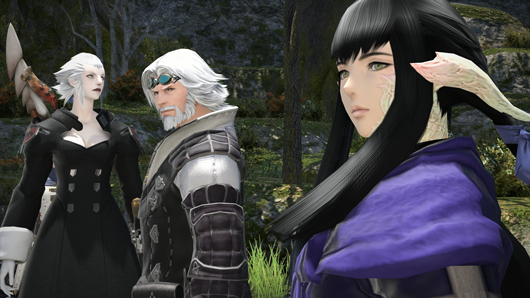 We continue dealing with what happened at Baelsar's Wall and get some introduction to the Stormblood expansion. As usual, it starts at The Rising Stones.
Alexander: The Creator (Savage)
The latest raid tier is now more accessible to people now that the following changes have been made:
Two treasure coffers will now always appear.
Weekly restriction on rewards from coffers has been removed.
Weekly entrance restriction on all areas of Alexander: The Creator (Savage) has been removed.
Alexander: The Creator (Savage) can be accessed via the Duty Finder
Players will now receive the power of the Echo.
If you've been looking to try out the Savage raids, now is a great time to jump in.
PvP
Season 4 of The Feast has begun! The season ends during the maintenance patch before early access for Stormblood.
Other actions and aspects have been adjusted:
White Mage's Sacred Prisim has its damage reduced from 40% to 30%.
Machinist's Between the Eyes has its potency reduced when the target is bound, stunned, or asleep from 3x normal damage to 2.5x.
Monk's Steel Peak stun duration has been reduced from 3 to 2 seconds.
Damage bonuses for Dark Knight and Ninja have been increased in PvP.
Adrenaline gauge will no longer deplete when incapacitated during Seal Rock (Seize) and Fields of Glory (Shatter).
Amount of Adrenaline rush gained from adrenaline kits in the Feast has been reduced.
Amount of HP restored by wolf's heart has been reduced.
Miscellaneous
The weekly limit on Scripture tomes has been increased from 450 to 900! So its a great time to gear up your secondary (or tertiary) class in preparation for the expansion.
Also, the Demonic Lanner Whistle drop rate has increased! Plus, it can now be exchanged for 99 tokens. For people wanting a Zurvan bird, here's as best chance as ever to get one.
New orchestrion rolls have been added. Equipment resembling the Garo gear can now be purchased from the Gold Saucer using MGP.

And new items have been added to the Mog Station. Dress up as Ser Aymeric or Ward Knight! And the Easter event items are also available if you missed out on them.

Also notable is that the 14-day restriction to trial accounts is now lifted. If you have friends that you want to try out the game, up to level 35, now is a better time then ever as they can try it out for as long as they like! (lodestone source)